See tab "Meeting Notes" for more details on past activities in our minutes.
We held a rally on Tues, Jan 13,  from 12 to 1 at the pedmall outside Congressman Loebsack's office protesting his vote in favor of the Keystone XL pipeline and encouraging the president to veto it.
In July we were Stuff's Charity.  We received $850. Thank you, Stuff.
Jan S is our representative to the community committee preparing for the Great March for Climate when it comes through IC on
August 20 (2014)
.  She passed a sheet asking for names of those willing to provide overnight accommodations or food.  More info will be forthcoming.
There will be a planning day on July 15 to figure out how we should be organized as we go into our 3rd year and we haven't yet had the miracle we are working for–assurance that climate change is being seriously addressed.  If you are interested in joining the Steering Committee in this effort, please be in touch with Barbara S
Calendar for April, 2014
April 21–MOURNING GLOBAL WARMING AND HEALING MOTHER EARTH 7 pm at Trinity. This is an event that will combine the energies of a quilt that incorporates the technologies of mourning—quilting and embroidery—with the energy of healing touch, similar to that of the Aids Quilt. Sarita Zaleha will help participants embroider names of devastating topical storms while discussion of climate change is being shared. The collective labor of mourning becomes visible through variations in each participants stitching. This is a cross disciplinary offering of the artist, the Iowa City Climate Advocates, 100 Grannies for a Livable Future, and the Healing Touch Practicioners who practice their healing at Trinity Church, where the event is being held. The Church is located at 320 E. College St. in Iowa City and will begin at 7 pm. Drop in when you can; stay as long as you like. You may stitch or not as you feel called. This will be an unusual and dynamic event on the eve of Earth Day, on the first day of Climate Action Week.  For more information contact Barbara Schlachter at b.schlachter@mchsi.com.
April 22–Reusuable Bag Campaign–Grannies in collaboration with UI Environmental Coalition.  This is 11 to 3 at the Pedmall.  We will be asking for volunteers at a later time.
April 22–Second Anniversary Celebration of the Founding of 100 Grannies for a Livable Future at Carol Christensen's.  5:30. Think about who might like to join the Granny effort and invite them.  Plan what you might like to share (or not) in the way of a song or poem.  And, we will be having a "fashion show" about what the well-dressed Granny might wear to the market–aka her bag out fit.  We anticipate this will be a fun event.  Bring a dish to share, possibly vegetarian, and wine or other beverage.  We will end with a few Dances of Universal Peace.  We will start at 5:30 but go later than our usual 7:00
Wednesday–April 23  Come meet David Thoreson who has the exhibit at the Old Capital on the Northwest passage and climate change is going to meet us at the Brown Bottle on Washington St. from 4 to 6.  We have a special room so that he can give a brief presentation and then have time for conversation.  We will be able to order beverages and food.  David is worth getting to meet in person!  This event is open to the Iowa City Climate Advocates and Grannies and their friends.
April 25–Grannies present children's theatrical piece "Litter Red Riding Hood at the Children's Museum at Coral Ridge Mall, 5:30 to 7:30.  Talk to Becky Hall if you can give a hand.
April 26- 2 pm -Grannies lead the singing on the Song for the Climate at the Food Court at the Coral Ridge Mall.  We will be joined by the Family Folk Machine who will do a musical program and by the junior jazzercisers who will dance to "Reduce, Reuse, and Recyle."  We hope many families of all ages will join in on this event which is tentatively scheduled for 1 pm.   We need all Grannies present.  If you do not know the song, google it on Youtube or click http://100grannies.org/resources/climate-song/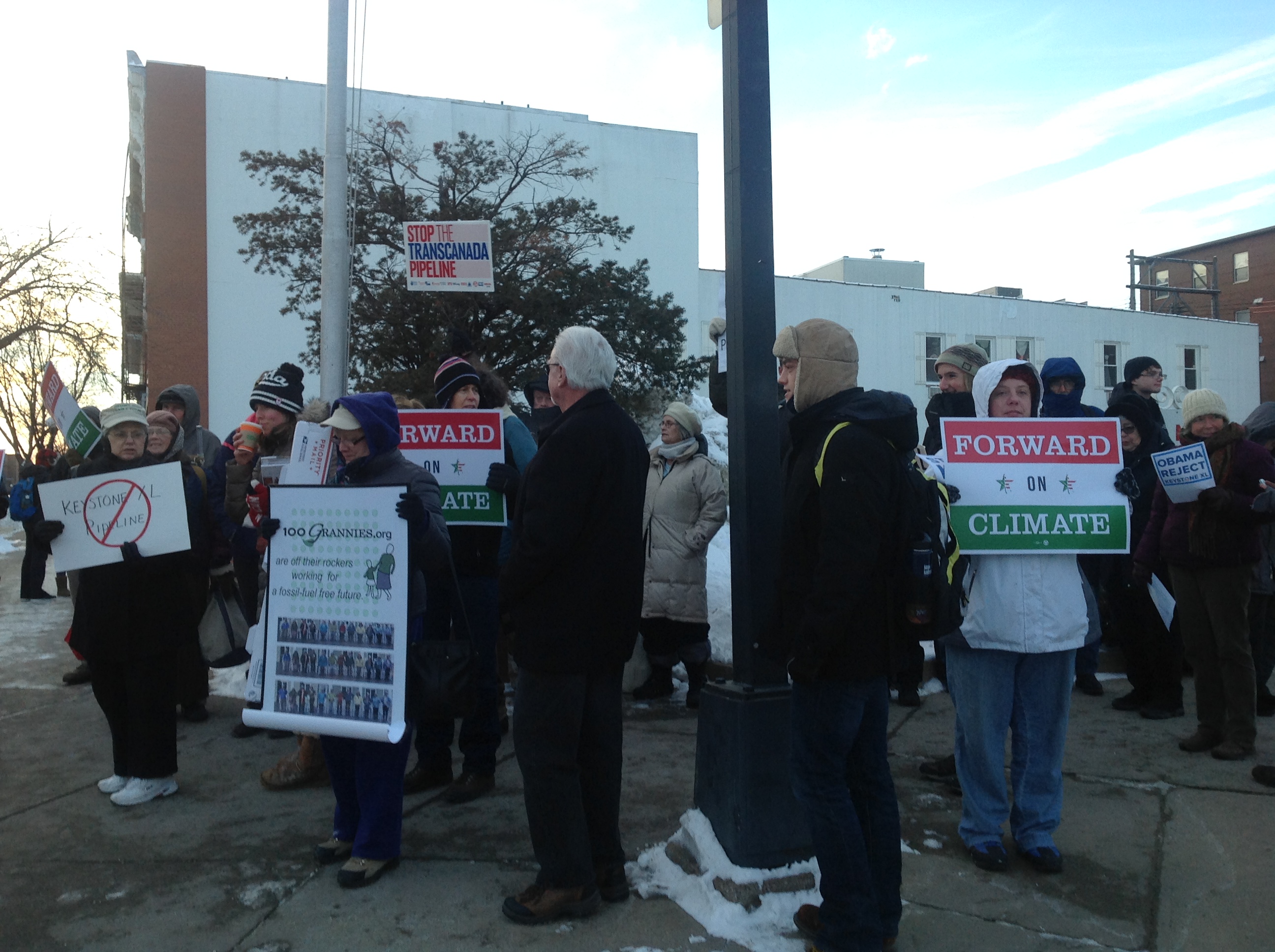 Those of us who attended this event Jan 15 were disappointed. The film was financed by the fossil fuel industry. Need I say more?
Eco Iowa City Offers A Free Viewing Of "Switch," A Documentary About America's Energy Transition.
The film will be shown Wednesday, January 15 at 7 p.m. in Meeting Room A of the Iowa City Public Library. Note: The film turned out to be produced by the fossil fuel industry.
Tuesday, Dec. 10 7 to 9pm  Iowa City Climate Advocates host Rick Zarwell and Robert Nehman, Pres. and Vice-Pres. of the Allamakee County Protectors who have been able to get a temporary moratorium on frac sand mining in the county.  Frac sand mining is a strip mining technique that forever ruins the topography of an area of our state that depends on tourism for much of its income.  Frac sand dust is a carcigogen, silica, and frac sand mining has negative effects on surface water and could possibly damage  the Jordan aquifer, the source of much of Iowa's water.
Come hear why we need to engage in their struggle to help them stop this.  Spread the word.
The meeting will be in LR 2 of Van Allen Hall on the Univ. campus.  Robert has produced several videos and there will be clips from them.
ATD symposium 1:30-5:00, January 11, 2014, Unitarian Universalist Society, 10 Gilbert Street. . . . was a big success. visit http://www.uptous.org/
Saturday, Dec. 7, 3 to 5 pm  OPEN HOUSE FOR MIRIAM KASHIA, GREAT CLIMATE MARCH WALKER
Miriam is set to walk from Los Angeles to Washington DC, March 1 to Nov. 1, with hundreds of others on the Great March for Climate.  She needs to raise funds for her expenses, and we want to help her by having an open house at Chris Vinsonhaler and William Blair's. We will be passing the hat while enjoying wine and cheese and music and poetry and some good visiting.  Miriam will tell us a bit about the march and why she is doing it.
The address is 3004 Walnut Ridge Ln. NE, Iowa City, 52240. Go about 2 mi. north of I 80 on Dubuque St.  Turn right into Stewart Rd. and go 0.6 of a mile.  Turn right onto Walnut Ridge and follow the unpaved road through the woods.  Please park on the left side of the trail so cars can pass.
If you can come, please let me know. If you can bring a finger food to share, please let me know. If you want to send a donation make it out to Trinity Church and mark it "climate march" and mail it to me at 7 Glenview Knoll NE Iowa City 52240.
I will let our wonderful and generous hosts know how many to expect.  Feel free to invite friends or spouses even!
Take Back Your Holiday Joy
Wednesday, November 20; 7 p.m.
East Side Recycling Center, 2401 Scott Blvd SE
Calendar for November:
Get Your "ECO" Going This Holiday Season
Wednesday, November 6; 7 p.m.
East Side Recycling Center, 2401 Scott Blvd SE
Nov. 11–Gaslands II at Barbara's 7 Glenview Knoll NE (off Dubuque st. 2 mi. n. of I 80)  7 pm
Nov 12–"Open Mic" at Prairielights on environmental concerns.  If you would like to read a poem or short reading, contact Becky H at beckyhall2012@gmail.com.
Think homemade holiday gifts are just for kids? Think again!
Wednesday, November 13; 7 p.m.
East Side Recycling Center, 2401 Scott Blvd SE
Grannies off their rockers, October, 2013 (Click image to enlarge.)

The Bold Nebraska movement continued the weekend of Sept. 21 and 22.  If you are interested in helping to build a solar and wind powered barn in the path of the Keystone XL Pipeline, we have some Grannies who are going.  A few of us went last weekend and had a good time painting billboards that will be posted along the proposed route of the pipeline.  Here are some pictures:  http://www.flickr.com/photos/boldnebraska
Also, you can just google Bold Nebraska and find lots more information.
At the Iowa City  Climate Advocates meeting Oct. 8 at 7 pm at Trinity, Warren McKenna from the Farmers Electric  Cooperative of Kalona talked about the FEC Community Solar  Garden.  It was quite interesting to hear about this possibility,  esp. for those of us who have too much shade for solar panels on our roofs or  property.
 What: Meet the Candidates for Iowa City Council Night
When: Wednesday Oct 16, 7PM
Where: Iowa City Council Chambers, 410 E Washington Street

Barbara and Katharine attended the Iowa City Women for Obama ice cream social May 19, 2012.
Grannies climate change booth at the Iowa City Arts Festival Eco-Fair, June 30, 2012. Grannies teach kids about polar bears and their habitat:
Save